4 Days Mesmerizing Wildebeest Migration Safari Adventure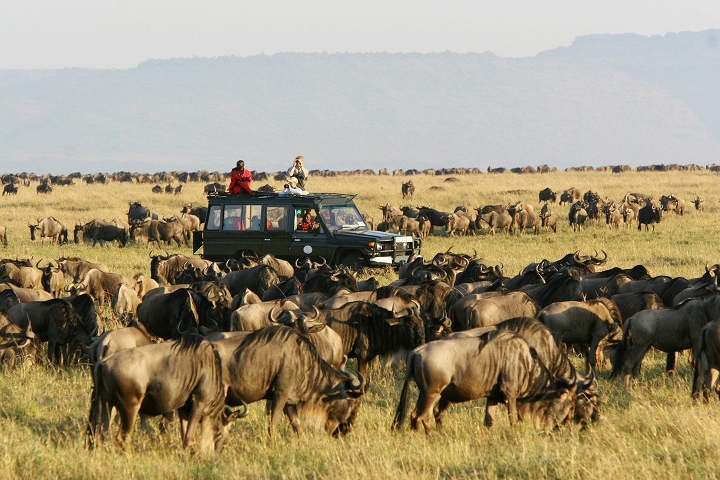 Package cost from usd $760 p.p group sharing
4 Pax Private Safari cost from usd $950 p.p joining
3 Pax Private Safari cost from usd $1150 p.p joining
2 Pax Private Safari cost from usd $1350 p.p joining
Wildebeest Migration Safari Adventure
Tanzania Wildebeest Migration Safari starts and ends in Arusha after covering the Famous Serengeti National Park where massive Migrations of wildebeest and Zebras take place from December to June followed by the big Cats and finish with Ngorongoro Crater which hosts thousands of wildlife species.
The Tanzania Safari Tour creates enough time for Tourists to Explore and Discover the beauty of endless Serengeti Plains, a Large Number of Big Cats, Massive Migrations, Rock formations known as the Serengeti Kopjes, Crocodile infested Grumeti River among other attractions.
– Daily Tanzania Wildebeest Migration Safari Departure available year-round.
– Tanzania Wildebeest Migration Safari is open for safari booking by solo travelers, groups, and Couples.
– Guaranteed of the Wildebeest Migration for December to June bookings.
– Transport on a comfortable well maintained 4×4 Toyota Land Cruser suitable for game viewing.
– Tanzania Wildebeest Migration Safari Package covers all the admission fees the two destinations covered.
– The Tour is a pure budget camping safari under the Africa sky in Central Serengeti and Ngorongoro.
DAY 1: ARUSHA – SERENGETI NATIONAL PARK.
Breakfast at your Arusha Hotel meets the Tanzania Tour Agent for Tanzania Wildebeest Migration Safari package briefing, Introduction to the safari driver-guide, and other tourists. Depart Arusha and be transferred to Serengeti National Park for Afternoon and Evening Game viewing.
Transverse the endless plains of Serengeti with the sightseeing of African Elephants, Buffalos, Lions, Wildebeest, Zebras, Gazelles, Elands, Hyena, Cheetahs, Leopards, African wild dog, Caracal among other Wildlife that inhabits in Serengeti National Park.
Late evening drive to Central Serengeti to arrive at Nguchiro Campsite for Check-in, Dinner, Bonfire as you discuss the first day Tanzania Wildebeest Migration Safari Experience followed by overnight at the same campsite.
DAY 2: SERENGETI NATIONAL GAME VIEWING.
Early in the morning enjoy African Breakfast and depart with picnic lunches for a full day Tanzania Wildebeest Migration Safari experience in Tanzania, The guide will help with the direction of the Massive Migration so as to enjoy larger herds of Wildebeest, Zebras, and Gazelles followed by Big Cats Lions, Leopards, Cheetahs and small ones Like Caracal, African wild Dog and hyenas as they hunt the herds.
Extensively explore and discover Serengeti National Park with a game drive at Central Serengeti, Along Mara River, Visit the Hippos Pool, Crocodile Infested Grumeti River, Several Serengeti Kopjes where Predators are often seen, and enjoy your picnic lunch in the wilderness for a thrilling experience. Late in the evening with amazing Tanzania, Wildebeest Migration Safari memories return to Nguchiro Campsite for an optional activity, Dinner, Bonfire, and overnight.
DAY 3: SERENGETI – NGORONGORO CRATER.
Early breakfast at Nguchiro Campsite, check out with picnic lunches, and enjoy the final Wildebeest Migration Safari in Serengeti National Park covering the central Serengeti national park, Lobo area, Mawe Area up to noon, enjoy the picnic lunches and exit Serengeti National Park with an optional stopover to learn more at Olduvai Gorge Museum at Extra cost. Later Drive to Ngorongoro Conservancy area for dinner, Bonfire and overnight.
DAY 4: NGORONGORO CRATER – ARUSHA.
Breakfast at Simba Campsite, check out with picnic lunches for the Final Tanzania Wildebeest Migration Safari experience in Ngorongoro Crater one of the seven wonders of the world and a UNESCO World Heritage site hosting more than 25,000 mammal species among then the few remaining Black Rhinos, African Elephants, Leopards, Hippopotamus, Buffalos, Elands, Lions, Wildebeest, Zebras, Giraffes, Waterbuck, Flamingos, Pelicans among others.
After Extensive game viewing and picnic lunches with amazing views, ascend Ngorongoro Crater to the Main Gate to Check out with great Tanzania Wildebeest Migration safari memories and drive to Arusha town where the great safari will end with a drop off at your destination.
– Safari as per the itinerary.
– Round Transport from the starting point back to the Finishing point.
– Services of a Professional and Knowledgeable English speaking driver Guide.
– Meals each day while on safari.
– All mentioned game drive.
– All park admission fees
– 1.5 liter of bottled water each day.
– Accommodation as per the itinerary.
– Personal Travel Insurance.
– Any optional Activity.
– Beverages and Alcoholic drinks.
– Visa fees.
– International or Domestic flights.
– Gratitude to the safari crew.
– Things of personal nature use.